"The Dating Game Killer"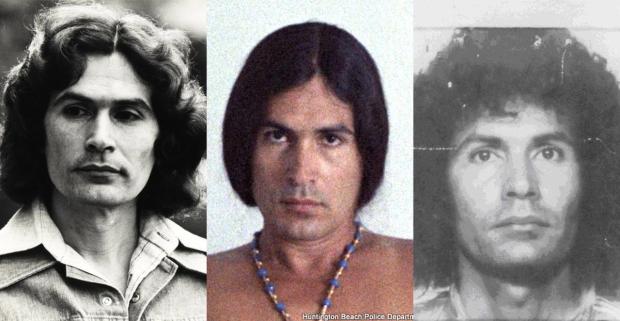 "He could play the chameleon: changing aliases, addresses, and occupations as it suited his devious purposes."
Rodney Alcala (born Rodrigo Jacques Alcala Buqour) portrayed all the classic traits of a psychopath: deceptive, manipulative, charming – and deadly. He displayed a stunning lack of conscience, playing a destructive game of self-gratification at the expense of others. Like many psychopaths, Rodney Alcala possessed above average intelligence – a feature bolstering his sense of superiority. Many described him as attractive, a quality he leveraged to charm and disarm his victims. He could play the chameleon: changing aliases, addresses, and occupations as it suited his devious purposes. By the time this chameleon was captured, at least 7 – but likely many more young women were dead.
Rodney Alcala was born in Texas and experienced a troubled childhood. His father abandoned their family when he was 8, and Rodney, his mother, and his siblings relocated to Los Angeles where he would begin his life of crime after a short, but failed stint in the US Army. He received a medical discharge after experiencing a nervous breakdown, going AWOL, and receiving his first of many psychiatric diagnoses: anti-social personality disorder, described as a disregard for the rights of others, a nonexistent conscience, and impulsive and aggressive behavior.
First Strike
His first known victim was an 8 year old girl who he lured into his apartment in 1968. A bystander witnessed his behavior and called the police. They arrived at his home a short while later, but Alcala claimed he was getting dressed and told the police to wait. By the time law enforcement forced their way inside, Alcala had escaped. His young victim was found alive – just barely, having been the victim of sexual assault and seriously injured with a metal pipe. Alcala was 25 years old at the time.
He fled across the country to New York where he would assume the aliases "John Burger" and "John Berger" – likely derivations of his father's last name Buquor. There Alcala would again enroll in college, and 3 years later in 1971, he got a counseling job a few hours away in New Hampshire at an art camp for children. That same year, Alcala was added to the FBI's Ten Most Wanted Fugitives list. This resulted in Alcala being identified by some of the girls he counseled. He was arrested and extradited back to California – but not before he assaulted and strangled a 23 year old flight attendant from Manhattan. It would be 40 years before this murder was tied to Alcala.
First Brush with the Law
The trial in California didn't go as the prosecution planned. Alcala's first victim had relocated to Mexico and her family refused to allow her to testify against him. Without a primary witness, the prosecution settled for a lesser charge of assault. Alcala received an indeterminate sentence and would end up serving only 17 months. Just two months after his release, Alcala would strike again – assaulting a 13 year old girl who he offered a ride to school. Alcala was rearrested, again given an indeterminate sentence, and then paroled after only 2 years.
Upon his release in 1977, he convinced his parole officer to allow him to travel back to New York, where one week after his arrival, Alcala murdered again. This time it was the 23 year old socialite. He returned to Los Angeles where he found work as a typesetter for the LA Times and a fashion photographer. During this time, Alcala would also kill two more women – one 18, the other 27, both strangled: Alcala's signature mode of killing. He had now killed four women.
"I always get the girl"
In 1978, Alcala was suspected of being a different serial killer in California: the Hillside Strangler. He was questioned, ruled out, and released. Later that year, Alcala appeared as a contestant on the popular game show The Dating Game, where a bachelorette chooses 1 of 3 hidden bachelors – hence the moniker "The Dating Game Killer." Prior to the show, Alcala arrogantly told another contestant, "I always get the girl." True to his word, Alcala won the competition. However, upon talking to him further backstage, the bachelorette became afraid of him and refused to go on their promised date – probably saving her life.
From 1977 until his arrest in 1979, Alcala used his good looks, charm, and photography skills to lure hundreds of potential victims. He would approach young women – and men, and say he wanted to photograph them. Some would return to his apartment. In 1978, he killed again – a 32 year old legal secretary found strangled in a laundry room. The following year, a 15 year old girl was abducted and assaulted by Alcala but managed to escape. Then in June 1979, Alcala killed another woman; this time a 21 year old computer keypunch operator.
Brought Down by Earrings
Just one week later, Alcala committed what might have been his last serial murder. He abducted and killed a 12 year old girl named Robin who was riding her bike from the beach to her ballet class. Alcala would often photograph people at the beach, and his young victim and her friends were approached by Alcala asking to take their picture. After Robin's disappearance, her friends were able to provide the police with a sketch. The sketch was recognized by Alcala's parole officer. A search warrant was served on Alcala's mother's house where a receipt for a storage locker in Seattle was discovered. Inside the storage locker, the police found several pairs of earrings. One of them belonged to Robin. Alcala was arrested, never to be a free man again. At least 7 lives had been claimed by "The Dating Game Killer.
Over the next 30 years, Alcala would be in and out of court rooms. He was convicted of Robin's murder and sentenced to death in 1980, only to have it overturned 4 years later on a technicality. At a second trial in 1986, Alcala was once again sentenced to death. This verdict was also overturned on a technicality. In 1994, he wrote a book declaring his innocence, but after more evidence was discovered, the prosecution asked a judge for permission to try Alcala for 5 murders simultaneously. The motion was granted and by 2010, Alcala was back on trial. He opted to serve as his own attorney, and in a bizarre courtroom display, he went back and forth questioning and answering himself – switching voices for each role. Alcala's only defense was to deny murdering Robin and to say he had no recollection of murdering the other 4 women. The trial was a slam-dunk. Alcala was found guilty for all 5 murders, and for the third time sentenced to death.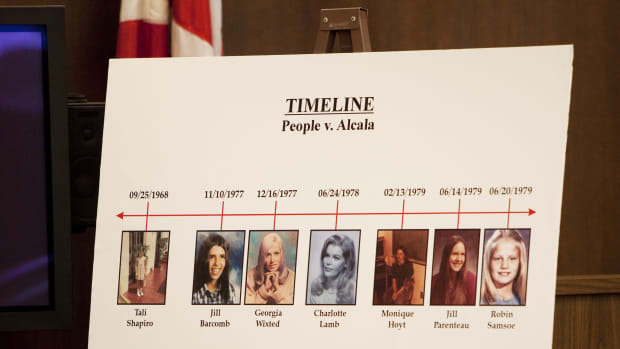 The Number Grows
In 2011, a Manhattan grand jury indicted Alcala for a sixth murder, and in 2012, Alcala plead guilty, receiving 25 to life. The state of Washington, where Alcala kept his storage locker, announced Alcala as a person of interest in two more murdered girls – one 13, the other 17. The city of San Francisco announced it was confident that Alcala was the perpetrator of the death of a 19 year old woman. And Wyoming prosecutors charged Alcala for the murder of a 28 year old woman. Cold cases in New York, New Hampshire, California, and Arizona are also being looked at as possible victims of Alcala.
In an usual move, Huntington Beach and New York police released 120 unidentified photographs taken by Alcala, found in his Seattle storage locker. They're asking the public to help identify those in the pictures. As many of them were explicit in nature, they have been cropped by the police for decency. They can be viewed here. Some of the photos have been identified. At least one has been identified as a victim. An additional 900 photographs were deemed too explicit and may never be released.
As of the date of this post, Rodney Alcala is 77 years old and is incarcerated in California State Prison, Corcoran's "Protective Housing Unit & Death Row" along with the likes of Joseph James DeAngelo, "The Golden State Killer."
Final Thoughts
I started with Rodney Alcala because he fits many of the characteristics often seen in serial killers: psychopathy, a troubled childhood, a double life, and multiple brushes with the law (which could have stopped his spree with harsher penalties.) He took trophies – the earrings of his victims. He photographed his victims. He had a preferred method of killing – strangling. Of course every serial killer has their own unique traits, but many align with those of Alcala.
Many questions come up when you talk about the criminal mind: were they born to kill? Were they mentally insane? What, if anything could've been done to stop them sooner? The first question I'm not sure can be answered. Not enough is known about Alcala's childhood. We don't know at what age signs of psychopathy began to manifest. We don't know how Alcala interacted with his siblings. Neither do we know whether his parents mistreated him as a child. I'm of the opinion that nobody is destined to criminality. It's a choice, perhaps made easier though by certain circumstances.
And while Alcala was diagnosed with at least six mental health and personality disorders, it was generally agreed that he was not insane. He had a higher-than-average IQ and he knew his actions were criminal, even taking steps to cover them up. He was a sadistic killer who didn't care about anyone but himself. He killed out of self-gratification and evil, not insanity.
As already mentioned: with harsher criminal penalties in his earlier crimes, Alcala may never have become a serial killer. With the brutality of his first assault, Alcala should've received far harsher than a mere 17 month sentence. The reason given for his early parole was "evidence of rehabilitation." This is not surprising though considering the manipulative and chameleon behavior of psychopaths. They're often able to fake desired characteristics to achieve their goals – Alcala's goal was to continue his violent fantasies. It's inexplicable that after serving a second stint in prison and registering as a sex offender, his parole officer allowed him to return to New York. Of course many forensic techniques available today were not known in the 1960's and 70's. Today DNA matching continues to tie Alcala to additional murders.
In my opinion, it is unlikely Alcala will ever be executed. The criminal justice system moves slowly and Alcala was reported in poor health by the age 73.
**UPDATE** Rodney Alcala died in prison of natural causes on July 24, 2021 at the age of 77 – exactly 42 years after his apprehension.
"Alice's Restaurant"
And I went up there, I said, "Shrink, I want to kill. I mean, I wanna, I
Wanna kill. Kill. I wanna, I wanna see, I wanna see blood and gore and
Guts and veins in my teeth. Eat dead burnt bodies. I mean kill, Kill,
KILL, KILL." And I started jumpin up and down yelling, "KILL, KILL."
– song lyrics played by Rodney Alcala during closing statements of his trial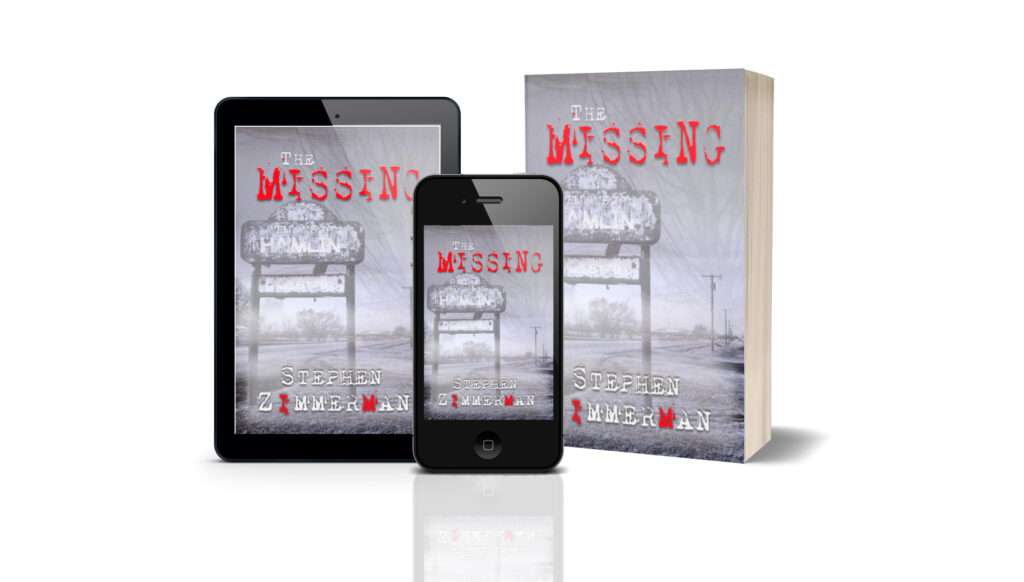 I wrote a book! If you enjoyed this blog post, check out my mystery/crime/thriller novel The Missing.